---
Member meeting
February 10th, 2019 1:00pm-3:00pm 
Distance Therapy: ethically offering online counseling and therapy
Guest speakers: 
Tiffany Chhuom MSW, MPH, CDP-T, LSWAIC and
Healther Spooner MA, ATR-BC
Antioch University Seattle (AUS)
Art Studio 
2400 3rd Ave Suite #200
Seattle, WA 98121
(free street parking on Sundays)
2 CEUS--free for EATA members, $10 CEU certificate for non-members (event free to all, fee is for 2 credit CEU certificate per non-member request)
Please join us to participate in dialogue and hear about the experience of two clinicians who have extensive experience offering online therapy. Please see talking themes and bios below.
The New Canvas: Telemental Health 
Tiffany Chhuom, MSW, MPH, CDP-T, LSWAIC
Heather Spooner, MA, ATR-BC
More than ever, Seattle showcases progressive art in digital spaces while bringing technology and healthcare to new frontiers. How do these two worlds, of Art Therapy and Telemental Health, intersect creatively and ethically? When emoji's aid emotional processing, Alexa supports speech therapy, and virtual reality confronts phobias, we're all learning new things for the first time. While this new frontier of digital health offers a fresh canvas for expression, it also presents greater challenges and opportunities to our field. The added benefits and increased access to services of telemental health come at what cost? The Evergreen Art Therapy Association invites you to join us in this dialogue, as we explore the definition of telemental health, creative intersections of Art Therapy and cyberspace, and present ethical challenges of maintaining two worlds as they integrate. 
---
Tiffany Chhuom, MSW, MPH, CDP-T, LSWAIC is the owner of Lucy in the Sky Therapy, an on-line private practice for neurodiverse adults. With 18 years' experience in healthcare, she holds four degrees in four disciplines from the University of Washington and notable achievement in practice, policy, research and administration across the Public Health, Social Work, Psychology, Criminal Justice, and Child Welfare sectors. She has been honored for her commitment to survivors of sexual violence, injection drug users, and disability advocacy as Pride Scholar, Husky 100, and Mary Gates Scholar. Previously, she was the Social Media Marketing Manager for Microsoft Health and spearheaded the first electronic data sharing agreement across 20 state and federal agencies to prevent child injury in Washington State. With her recent post-graduate training at the UW's Department of Bioethics and current roles, as both Western Washington Representative for the Washington Chapter of the National Association of Social Work and Ethics Committee member for the Washington State Society for Clinical Social Work, Tiffany is setting precedence for responsible technology adoption in healthcare. Now launching her second business, EthTech, Mrs. Chhuom aims to redefine the status quo for our digital era through education, training and thoughtful leadership.
Contact information for Tiffany Chhuomg:(360) 972-3931
Heather Spooner, MA, ATR-BC
Heather Spooner is an artist, art therapist and arts in health advocate. Heather has applied the arts to health with people of all ages and in a variety of settings including healthcare facilities, museums, community outreach, Veterans health and residential substance abuse. Prior to joining the Center for Arts in Medicine, Heather taught art therapy at the undergraduate level and spearheaded the formation of Florida's own arts in health network,  Arts for Health Florida. Heather joined the University of Florida in July 2014 as an Assistant Scholar and instructor in the Center's graduate programs.  Heather works in a dual capacity with the Center for Arts in Medicine and the Malcolm Randall VA Medical Center. With the VA, Heather works as an art therapist in the Rural Veterans' Telerehabilitation Program, providing telehealth-based art therapy services to Veterans. This project, started in 2014, has since partnered on two national expansion projects; integrating telehealth within Creative Forces: The NEA Military Healing Arts Network and within the VA's own Enterprise Wide Initiative through the VA Office of Rural Health.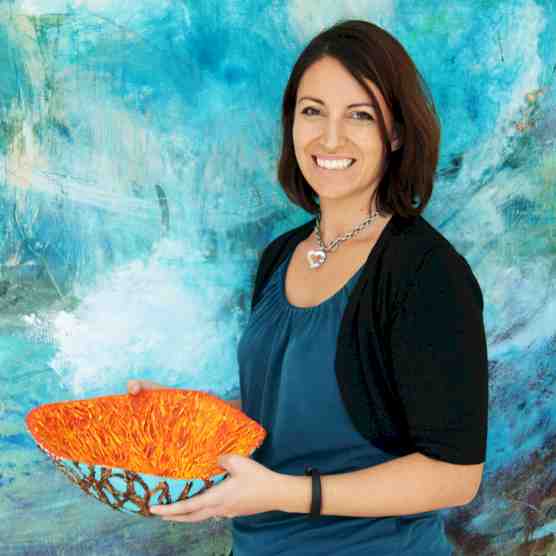 Heather Spooner bio and photo courtesy the University of Florida, College of the Arts
https://arts.ufl.edu/directory/profile/39245
Chapter Meetings
Chapter meetings are events designed to promote art therapy and network community.  Chapter Meetings are every other month on the first Sunday afternoon of each month. Meetings are open to anyone interested in Art Therapy. For details on the next chapter meeting see above or contact us at info@evergreenarttherapy.org.